©2009 A&AFielding Ltd Company Registered in England No.07089460
Registered Office: Bank Chambers, 3 Churchyardside, Nantwich, Cheshire CW5 5DE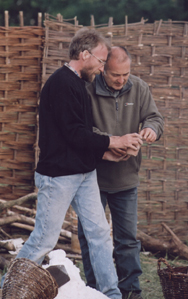 Above: Interviews and salt making with Tony Robinson for Channel 4's Time Team filmed in Essex.

Above: Harvesting salt crystals from a replica Roman salt pan.
Annelise and Andrew have been making their research available through the on-line publishing service of Blurb. Copies can be ordered directly from the Blurb web site or contacting them directly. See Publications page.
In 2016 we shall be publishing transcriptions of memoirs kept by Annelise's great-great grandfather, William Masters Hardy.
WM Hardy was a master builder and antiquarian who lived in Swanage, Dorset and was the author of Old Swanage, or Purbeck Past and Present and Smuggling Days in Purbeck.
Andrew and Annelise Fielding both trained as archaeologists.
Annelise read classics and became the Archaeological Field Officer for Hereford and Worcester County Council.
Andrew studied archaeology and having learned to dive, worked as Deputy Archaeological Director at the Mary Rose Trust from 1977 to 1989. Working for Vale Royal Borough Council Andrew secured a £4.96M grant from the Heritage Lottery Fund in 2006. 2011-3 assisted Age UK Oldham secure £1m from the HLF for restoration of George Street Chapel. He is a Member of the Institute for Archaeology and sits on the CBA, NW-Industrial Archaeology Panel.

Andrew and Annelise Fielding established A&A Fielding in 2009.
If we can help you with your heritage project please contact us.
Advice given to Age UK - Oldham in 2010-11 resulted in the £1.3m restoration of George Street Chapel, Oldham - see Project Link
We have written books on the history of salt making.
Established Ecosal-UK in 2013
to study, research and promote historic salt making.
We are available to give talks on a variety of subjects. See also our blog.